I am back, safe sound and tired from
Blissdom Canada.
Photo: fantapper.com
Safe, sound, tired...and
inspired.
What a weekend. I talked with
Ann Douglas
, author of "The Mother of All....." Books, a series I poured over during my pregnancy with Makenna and her first couple years. I met and chatted with Candace, the woman who creates the
"Name your tune" CDs
, of which both my children own. I also met Julie, co founder of Mabels Labels Inc, which Makenna's swim team is currently using as a
fundraiser
. I listened to speakers
Jian Ghomeshi
,
Amber MacArthur
and
Ami McKay
, among others. I learned so much about the power of social media.
I dressed up as the first book cover from the 50 shades of Grey series, a series I have never even read, and, with the other two girls that made up the trilogy, sang a Karaoke song of which I have never before even heard of.
Photo: @jackiyo See, I am the first cover with the tie, @Jennileeblack is the second book cover with the mask, and @jackiyo is the third cover with the handcuffs. @Jennileeblack made the shirts.
I came home with memory foam pillows from Sleep Country Canada, a cool waterbottle and skittles from Chevrolet Canada, Dove bodywash, bread, bread and more bread from Maple Leaf Foods, a Starbucks Gift Card (Yes, Cherie you can have it), cookies with lentils as an ingredient, that my kids actually liked from Canadian Lentils, the BEST cracker chip things and Goldfish crackers from Pepperidge Farms....AND I won a brand new
purse
that was part of sponsor
usedeverywhere.com
's inventory that still had the original $175 price tag on it.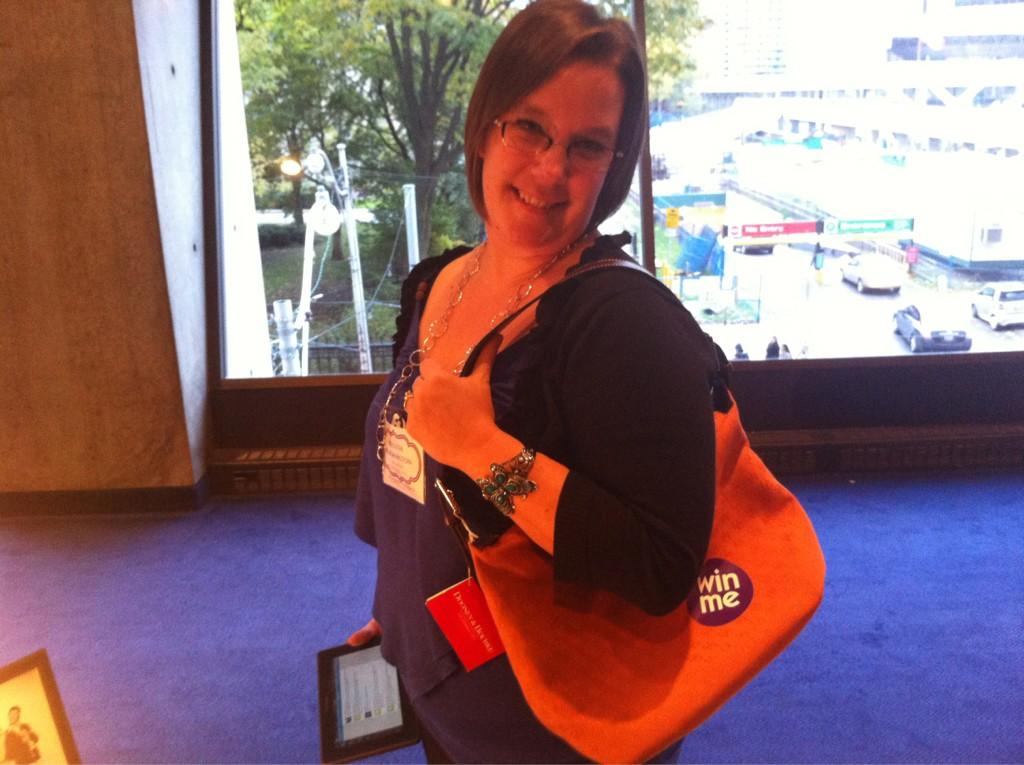 photo: @usedeverywhere
I did not win the KitchenAid Mixer, the Kobo Vox, new phone, camera, mattress, or Itunes Gift cards. BUT I really
needed
a new purse and and I like this one, so that worked out well.
I ate spring rolls, spinach and goat cheese phylo triangle things (so good), crackers, fruit, brushetta (to die for, got the recipe, can't wait to try it) and...of course...cheesecake. All sponsored.
I got be on the internet, constantly, and no one judged me or thought poorly of me for it. In fact, it was expected. Encouraged.
And as awesome as all THAT was...I learned too. I had a moment while listening to Amber MacArthur speak when I realized that right there, right then, I was growing. I was learning so much in such a short time and all of that knowledge, influence, opportunity and possibilities was overwhelming. The world is big. There are so many possibilities. I was growing.
I tweeted it as a 'Finding my bliss' moment ;)
The first microsession I attended was about writing.
How appropriate huh?
It was about Sparking Creativity in your writing, led by
Ali Martell
, who is the Editor in Chief of
Yummymummyclub.ca
The message I came away with from this 45 minute discussion was that I don't need to wait for "The Big Stuff"...the heavy, lifechanging serious stuff to happen, to write. I don't need to always have a deeper message to convey or a need to get something off my chest before I write. I don't need to wait for special occasions. If I love to write, I should just write.
About whatever. About something. Anything. Nothing. Just write. And if people like it, they'll read it, and if they don't, they won't.
Ha. Lots of experience with that concept, haven't I? ;)
The more I write, the better I will become. The more people will read. The more interactive this could become. The more genuine it will be.
Ali said she writes everyday. She gets up early, before her kids are up, sits down at her computer, and writes. And then she hits publish, closes her computer, and gets on with her day.
I'm like
...."What?!?"
You don't go over it with a fine tooth comb, checking for and fixing spelling/grammatical mistakes? You don't re-read it 3457 times to make sure it "sounds right"? flows nicely? If you do it that quickly how do you know you got all of your thoughts in there?
How can you come away feeling like you left it all out there on the screen? That it's...perfect?
And that's the message she was trying to convey. Who cares if there are spelling/grammatical errors? It's not for professional use, it's her blog about her life. When you do it every day, over and over again, you get into the rhythm and it does flow easier and sound good. If you want it to reflect you...well...this is who you are; the good, the bad and the ugly.
Take.it.or.leave.it.people.
Riiiiiiiiight.
I like this idea. I like the idea about writing about everyday things. Just for the sake of writing, because it feels good. Because it's
your
time. Because it keeps you sane.
But...finding the time...every day?
I already get up before my kids do, most days, to go to
Boot Cam
p. Getting healthy is also really important to me and I get up at 5:30am and head out to boot camp to make that happen. I like going at that time of day because when I arrive back home at 6:30, everyone is still sleeping. I haven't intruded on anyone else's time or schedule. I then walk Maggie around the block to cool down, something that benefits both she and I. When that's all done, by 7am, the kids are just getting up and we can begin our day as usual.
So...does that mean in order to get my "writing time" in I should start getting up at 4:30am?
Cause I can assure you, that isn't going to happen.
Oct 23 2012: Dear readers: I am tired. yawn. I don't drink coffee. It's dark. Yawn. My brain is still sleeping.
Yawn. What am I doing out of bed?
Nope.
So this will take some thought. Where can I carve out more time in my day to write? Because I do love it and want to make it a priority.
Hmmmm....maybe I can be the antisocial mom at swim team. Head down at my laptop, whistles and splashes as my backround music and inspiration.
Maybe I could give up Dancing with the Stars. Or Castle. Or Private Practice. Or Grey's Anatomy. Or Chicago Fire....
Or not.
Maybe I could quit my job and just stay home in my pajamas all day, writing and surfing my little heart out...
Bank says: "ain't happening".
The hours of 8am-8pm are unavailable due to the demands of work/children/chauffer duties/ domestic duties/what have you.
There was also a micrsession on being productive when online. I didn't attend that one. Perhaps I should have.
Yeah, this will take some thinking. But over the next little while, that's a goal of mine. To start writing more often, about the everyday stuff. Just for the sake of writing. Just because I want to. And maybe to find out if anyone else's thoughts/lives/tendancies to overanalyze are as "out there" as mine are somedays. I already have one of these types of posts forming in my mind.
I just need to find time to write it. But not right now...Dancing with the Stars is coming on.
;)