Yesterday
I told you I have signed up with A Bowl Full of Lemons to complete a series of weekly challenges to help better clean and organize my home.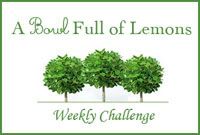 The first challenge starts today and involves making a Home Management Binder. I will confess I currently have nothing even close to this, unless you count my Day Planner, my wall calendar and my fridge, which is covered in papers.

I wasn't even sure I really needed something like this, as we are not an overly busy family, our kids are still young and their activities are easily managed at this point. But at the bottom of Toni's post are links to other blogs who are undertaking this same challenge and as I read through some of those I started to see how this could work for me.

The areas I am thinking of including are Coupons (with those plastic baseball card holder sheet things), Take out Menus, Meal Plans, a weekly and monthly cleaning schedule, Fire Dept meeting schedule and Contact #s, Appointment cards, Grocery Lists, a "school" section for newsletters, calendars, order forms, etc, a master birthday list and an area for gifts ideas, a Christmas section, Contact info for our Doctor, Dentist, Chiropractor, Optometrist, Lawyer, Financial Planner, etc etc etc. It would be nice to have all of this in one place that anyone in this house could access at any time. My fridge would certainly thank me for it.
So, I am still kind of tossing it around in my head, but it is starting to take shape. Take a look at the blogs that have linked up at
the bottom of this post
and tell me: Do you have a system like this in your home? Do you wish you did? what do (or would you) include in it?